Status updates and another Award celebration
By admin — June 13th, 2018
Hi all,
Time for an all new update.
Last week we have been working around the clock building-up new driver packs and battery management software tweaks. In today's update we'll brief you on the current status of the driver development and production status of the remaining configurations.
We do have something to celebrate as well 😉
Driver updates
Last week we have made great progression on fixes for software related instabilities. This week we will be able to release an all new Battery Management Driver, which includes fixes for the battery drains and overall stability.
Some users noticed an option in the File Explorer to deactivate & eject the Wifi chipset. With the upcoming software update we have fixed this as well. The Wifi drops, which have been reported by several users have also been fixed.
The fixes are part of a BIOS-update. Instructions on how to install this update will obviously be included. We expect to finalize the BIOS-update tomorrow.  As soon as all the required documentation is finalized we'll publish the update via our Online Support Center.
We have also been working on the finalization of the 'automatic' driver installation tool. We will provide this tool later this week. With this tool, you are able to install all drivers automatically instead of a manual installation.
Device related (technical) questions
For those who have support inquiries or device related questions, we'd advice you to e-mail our support team at: [email protected]. We're doing all we can to respond within 48 business hours.
Production status
In the last weeks we have been promising deadlines we unfortunately couldn't keep up with. We are truly sorry for this inconvenience.
In the last week we've received some e-mails of backers expressing their displeasure about the delay. We understand your frustration and we dislike this situation as much as you do.
The reason for the delay in shipments is pretty straight forward: We are trying to embed the improvements on these last units. The entire Ockel team is literally working around the clock to organize a lot of things. That might not always be noticeable, but trust us.. we're doing all we can to ship out the Ockel Sirius A Pro Moon Silver and a small portion of the Venus Gold  configurations as quickly as possible.
Currently we are embedding the latest BIOS-update on the machines that are almost ready for departure. Because of the fact that all units had been pre-loaded with a BIOS and Windows configuration last week, we need to re-install the BIOS and Windows configuration for each unit. This process takes about an hour extra per unit.
As some of you suggested we will publish a second update this week with the latest status of the production and hopefully great news regarding the shipping timeframe on Friday the 20th of April.
Please stay tuned, we never did and never will let you down.
We won another Award!
Last week we were finally allowed to spread the word on the amazing news: The Ockel Sirius A has won the Red Dot Design Award 2018!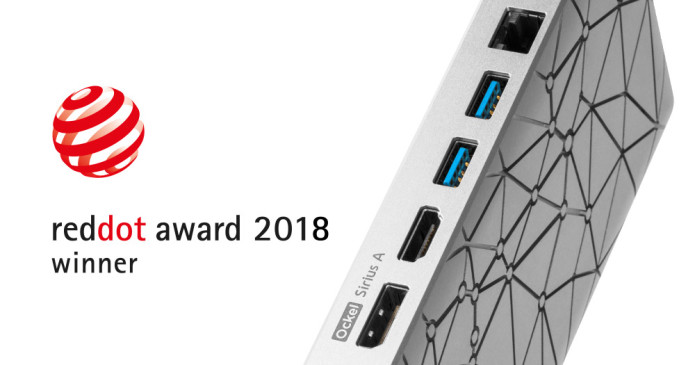 The Red Dot award is one of the most prestigious awards to win for product designs.
We're very honored and thankful to have won this award, and we'll keep working on more new and innovative products in the future. Let's hope this is the first Red Dot of many more to come!
That's it for now. As always, if you have any questions regarding our products or this update, please feel free to contact us at [email protected] or leave us a comment, here on Indiegogo. We answer all questions within 48 business hours (Monday-Friday)
See you next week,
The Ockel Team