Latest Ockel Sirius A visuals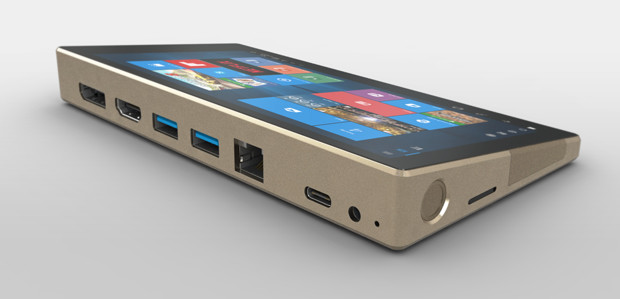 By admin — April 3rd, 2017
Today it's time to share the latest Ockel Sirius A visual and we tell you more about the new ports layout, WiFi antenna's and the update in the campaign timeline.
Ports layout
The Ockel Sirius A and Sirius A Pro ports layout will slightly change in order to guarantee the stability of the ports and the PCBA. The layout will be changed based on the port functionality, this means that we will position the HDMI and Display ports next to each other and the USB 3.0 ports next to the Ethernet jack. On the right back we'll integrate the USB Type-C and power jack ports. Last but not least, the Micro SD-card slot will be positioned at the right side of the Ockel Sirius A.
The fingerprint scanner we shared last week is positioned at the left side and provides you an easy, quick and convenient way to unlock Windows!
WiFi Antennas
As the first image shows, we came up with a great solution for the WiFi antennas of the Ockel Sirius A.
The casing of the Ockel Sirius A is made of anodized aluminum and the touch panel includes metal as well. To make sure the WiFi signal wouldn't get blocked by this metal 'cage' we came up with the following solution: on the left and right side of the Ockel Sirius A you'll find two small plastic parts. These parts allow for the best dual antenna signal. We will keep you updated on choices for colors and materials and are trying to integrate a cool little backlight in these parts to make the Ockel logo(s) stand out. This idea once more represents our definition of radical innovation: cool design + function.
Timeline update
After all the good news, including the Ockel Sirius A Pro version, the free Avanca ToughGlass and the free fingerprint scanner, we unfortunately do face a delay on the expected production start and delivery dates.
The reasons for the delay are the longer than expected time it took us to negotiate contract terms with various technical partners, (crucial to deliver the best quality), the integration of the fingerprint scanner, the several technical adjustments we must make to the PCBA and the WiFi antenna solution, all necessary to ensure the product reliability.
We expect to have the working sample with the new port layout ready mid-May and we'll start the thorough testing processes once this new prototype is finished. We can't wait to share the first testing results with you!
Shortly after we finish testing the Ockel Sirius A configurations we'll be more than ready to start the production.