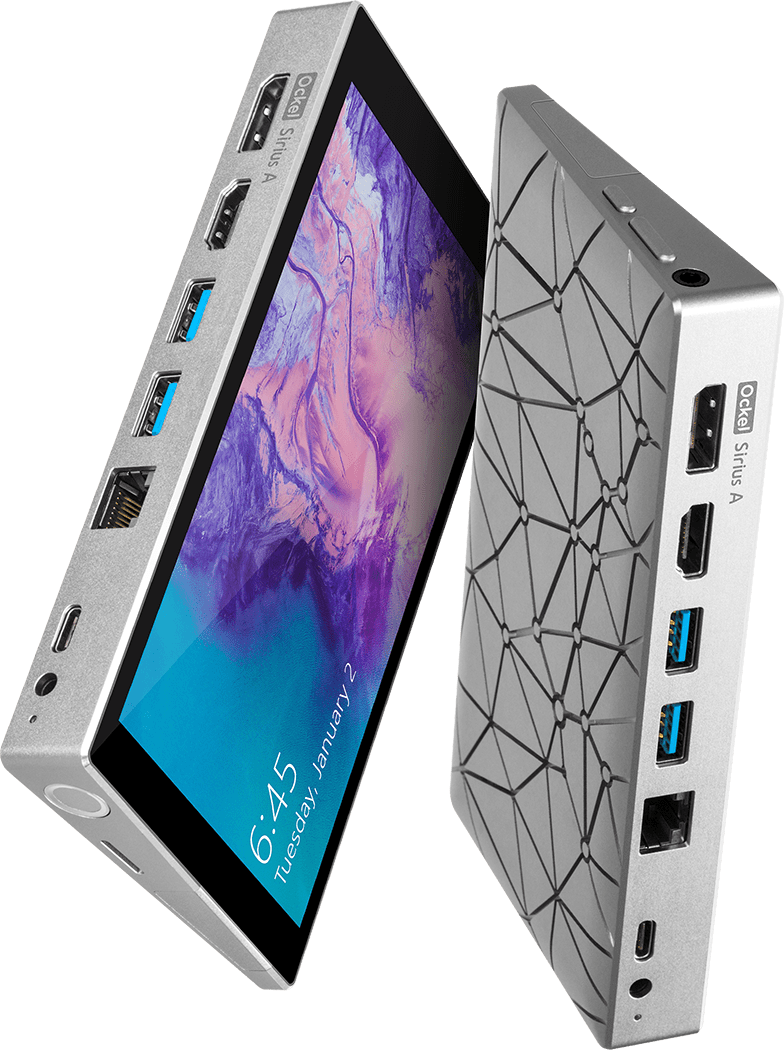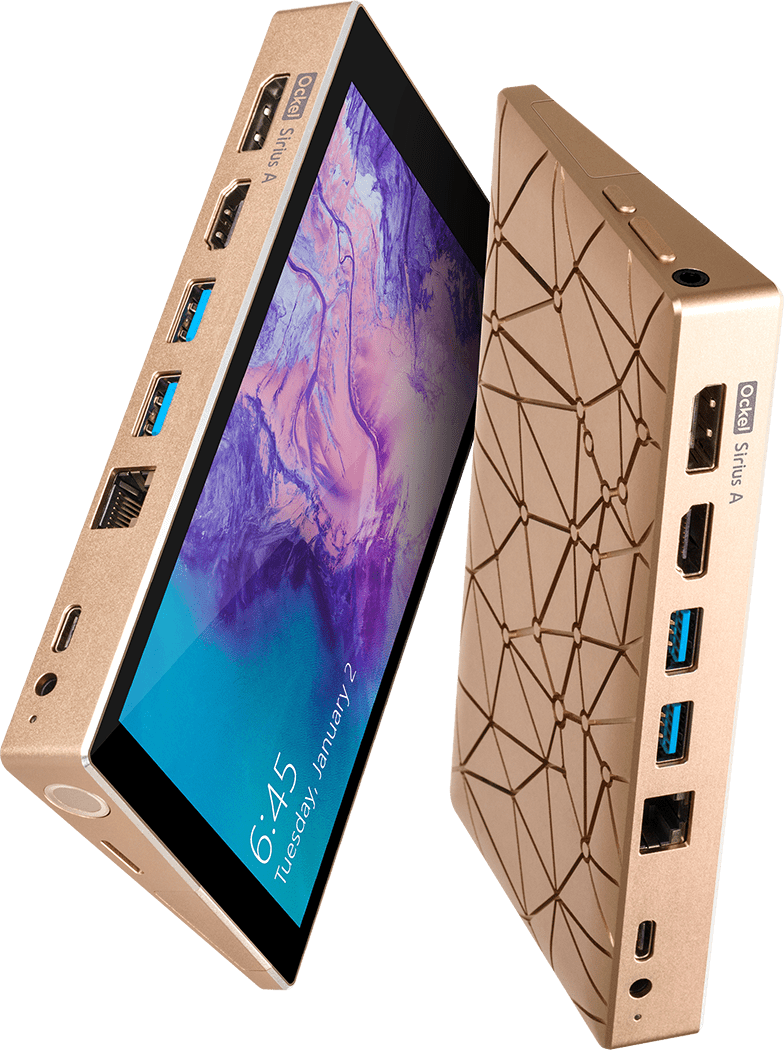 Sirius A
The world's most versatile mini PC
Moon Silver

Meteor Grey

Venus Gold
Watch the video

Sirius A
The Ockel Sirius A is small enough to fit in the palm of your hand, but is just as powerful as a desktop PC. This unique mobile PC is equipped with a full Windows 10 Home or Pro version, powerful hardware components, a 6-inch touchscreen and battery. The Ockel Sirius A combines the connectivity and functionality you want and need when you are using a personal computer with the portability you expect from today's technology.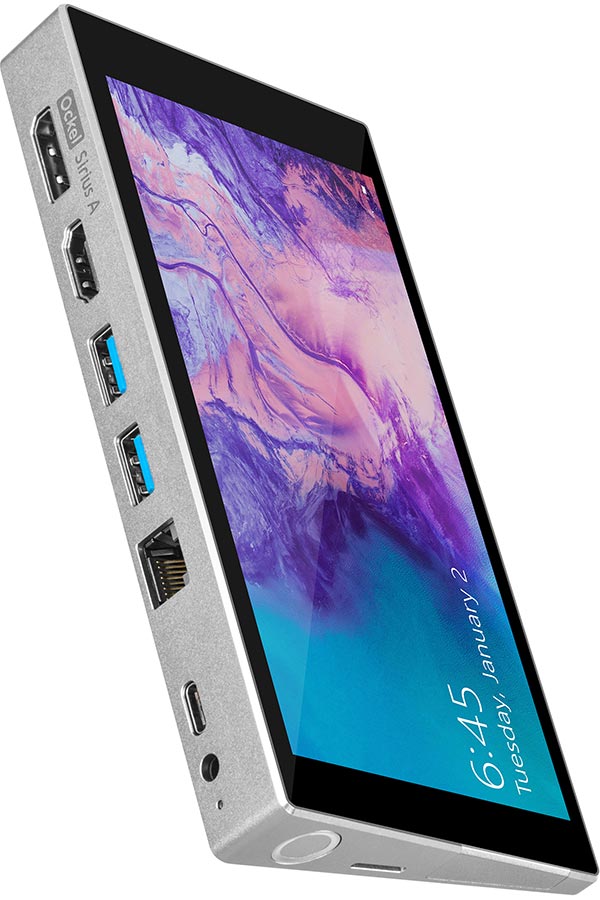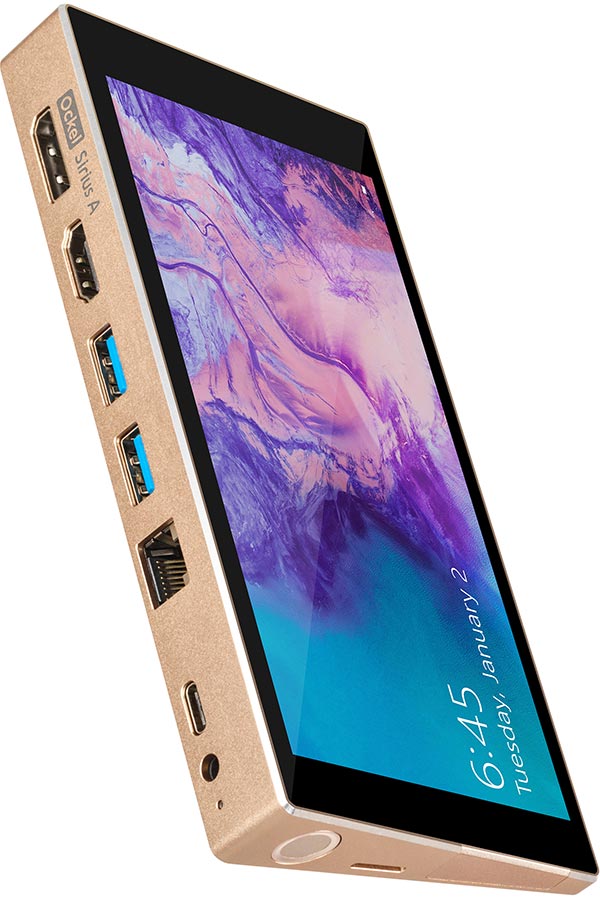 Sirius A
Moon Silver

Meteor Grey

Venus Gold
Windows 10 Home 64-bit
Intel Atom x7-Z8750
4GB RAM
64GB Flash
€699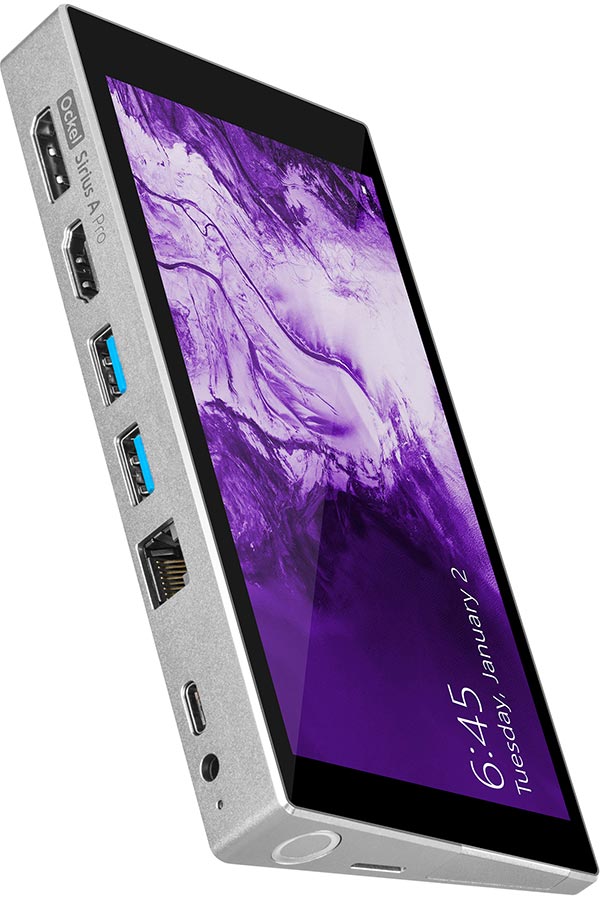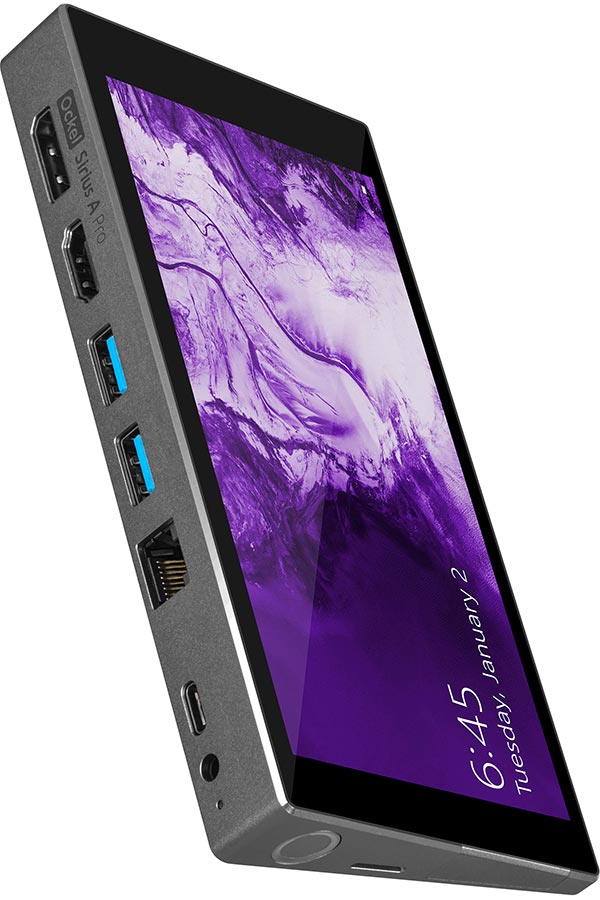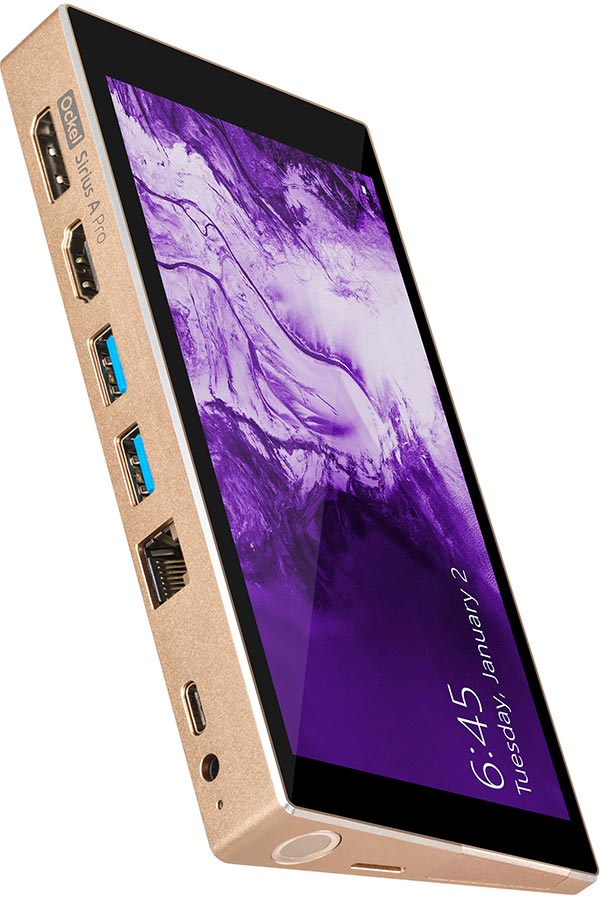 Sirius A
Pro
Moon Silver

Meteor Grey

Venus Gold
Windows 10 Pro 64-bit
Intel Atom x7-Z8750
8GB RAM
128GB Flash
€799
How to use the Sirius A
A complete desktop PC in the palm of your hand
The Ockel Sirius A eliminates the limitations of a mobile operating system. Equipped with a full version of Windows 10 (64-bit Home or Pro), an Intel Atom x7-Z8750 processor, up to 8GB of RAM and 128GB of flash storage you get the power you want. Combined with a multitude of wired and wireless options to connect peripherals such as a mouse, keyboard or external hard drive, you create a comfortable and complete desktop experience within seconds.
The gateway to your favorite media
Connect the Ockel Sirius A to your TV or speakers and enjoy your favorite media. This little machine is equipped with many connection options, including an RJ-45 port for ultrafast media transfer, full size HDMI, DisplayPort, USB Type-C, Bluetooth and WiFi. Whether it's Netflix, YouTube, Spotify or stored media files, the Ockel Sirius A streams, transfers and controls it all.
Your office in your pocket
The Ockel Sirius A offers you the flexibility you need as a 21st century business professional, without handing in on productivity. With a Windows 10 Home or Windows 10 Pro version pre-installed and powerful hardware components, you are able to create a comfortable workspace within seconds, share your content with (potential) clients or colleagues and access your Microsoft Office 365 Word, Powerpoint and Excel documents wherever you are. The integrated fingerprint scanner keeps your data safe and easily accessible.
Field work made easy
The need to carry around heavy laptops is over. The Ockel Sirius A enables IT- experts, technicians, repairmen and other field workers to collect and analyze data, track and monitor progress or maintain infrastructures within the blink of an eye. The Ockel Sirius A is the first smartphone- sized device with an RJ-45 port, offering the possibility to connect to any network in a fast, easy and safe way.
A beautiful remote control
Connect your Philips Hue, Nest, smart security camera or other Internet-of-Things device and manage the settings straight out of your pocket. The Sirius A is the most beautiful remote control ever made for all your smart devices, at home or at the office.
On the go use
The compact size and lightweight design of the Ockel Sirius A allow you to take the device with you wherever you go. You don't even realize you are carrying a complete computer with you! The 6-inch full HD touchscreen and integrated battery that lasts up to 4 hours enable you to use the Sirius A on the go.
Seriously small
The small form factor of the Ockel Sirius A makes it hard to believe you are carrying your complete desktop PC with you. The built-in battery and the full HD touchscreen ensure access to all of your files, applications and the full Windows 10 desktop experience wherever you are. The 3.500 mAh battery has enough capacity to power your Sirius A up to 4 hours without being connected to a power outlet.
Fingerprint scanner
Every Ockel Sirius A and Ockel Sirius A Pro includes a fingerprint scanner. Something that makes sense, since most of us will carry around our Ockel device and with all your personal data stored on it security is an extremely important issue. This feature will make the use of your Ockel Sirius A safer, easier, more comfortable and future proof.
100% Silent
We designed the Sirius A in such a way that ventilation fans are not required. This unique feature combined with the flash storage means you can enjoy working in silence and benefit from ultra-low power consumption.
The powerful hardware components of the Sirius A obviously generate heat. A regular passive cooling isn't able to cool this heat. That's why we decided to create an eye-catching heat sink with the pattern of the Canis Major star constellation. This is the star constellation where the Sirius A star (yes, that's right, the Sirius A is a star!) can be found. This heat sink cools all the heat generated by the Ockel Sirius A without any fan.
Wired or wireless, it's up to you
The Sirius A is equipped with the latest WiFi ac and Bluetooth technology for fast and wireless connection, but also includes all the ports you want to have when you are working on a desktop PC.
The awesome Microsoft team offers us their support and knowledge when it comes to software development, licensing and other inquiries related to Windows 10.
We work closely with the Intel engineers to create fast and reliable devices. The knowledge of their worldwide teams enables us to develop new products.
Available

in three

beautiful

colors
Venus Gold / Meteor Grey / Moon Silver
Sirius A Tempered Glass
The Ockel Sirius A (Pro) Tempered Glass is made of top quality tempered Japanese Asahi glass developed by Avanca®. This 0.33 mm thin sheet of glass easily protects your screen from scratches and prevents screen breakages due to fall damage. The special tempered glass ensures full preservation of the contrast of the screen and its touch sensitivity.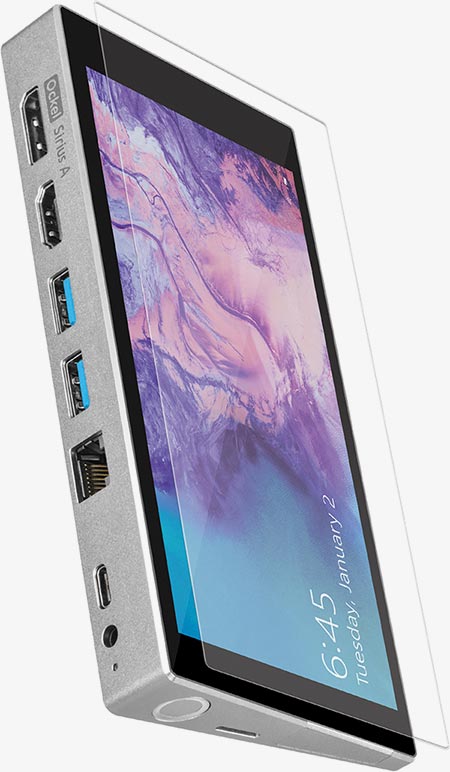 Sirius A Case
The Ockel Sirius A (Pro) Case is made of thin PU-leather, which ensures a slim fit and full protection for your Ockel Sirius A (Pro). The case offers full access to all buttons, ports and functions of your Ockel device. The case uses a special adhesive strip to attach on the of your Ockel Sirius A (Pro). The adhesive strip is reusable, washable and leaves no glue residue on your device. This wallet case can be used in multiple positions for optimum comfort.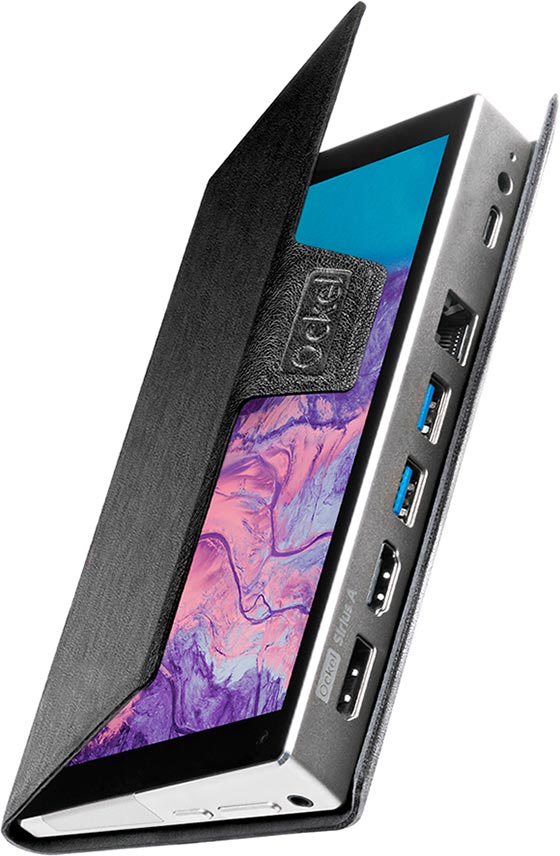 Technical Specifications
Operating system
Windows 10 Home/Pro 64-bit
Processor
Intel Atom x7-Z8750
Screen
6" Full HD multi-touch panel
Graphic type
Intel HD Graphics 405
4K support
3840 x 2160 px @ 30Hz
Display port
1.2 (Full size)
Ethernet
RJ-45 (10/100/1000MBit)
WiFi
802.11 a/b/g/n/ac, dual band
Internal storage
64GB / 128GB eMMC flash
Expansion options
Micro SDXC slot
Camera
5MP Full HD (1080p @ 30fps)
Microphone
Micropnone array
Sensors
Fingerprint scanner, accelerometer, gyroscope
Adapter
DC 12.5W (5V/2.5A)
Battery-life
Up to 3.5 hours of video playback
Colors
Meteor Grey, Moon Silver, Venus Gold
Dimensions
85.5 x 160 x 8.6 - 21.4mm / 3.4 x 6.3 x 0.3 - 0.8"