On track!
By admin — September 18th, 2018
Hi all,
Time for another update. This week we'll brief you about the trial-production progress, as well as the streamline changes we made to the production and an event we had last week with Dutch celebrities.
Production update
Good news! The trial production run of the new PCB's has been finished and the PCB's arrived in our SMT facility. The SMT (Surface-mount technology) will start on Wednesday. Shortly after the SMT is finished, we'll start with the assembly of the trial production units. We expect to start the first durability, performance and quality tests next week. This is ahead of our previous estimated deadline.
Streamlining the production
Last week Tesla announced to eliminate two of their color options for the Tesla Model 3, to help simply the manufacturing. Today, we would like to inform you that we are too eliminating two colors, period.
In the last year we have gathered enough data to dive into the details of the different options we are currently offering for the Ockel Sirius A and Sirius A Pro. As we have two configurations and three colors, this results in a total of 6 Sirius A configurations.
However, the current sales trend shows us that there is a high interest in the Ockel Sirius A Pro – Meteor Grey option. Along with this trend, the sales trend is focused on the Meteor Grey versions of our devices. A total of 85% of the Ockel Sirius A & Ockel Sirius A Pro's are sold in the color Meteor Grey. As a result, we will eliminate the Moon Silver and Venus Gold options temporarily to speed up the production. A very small percentage of existing backers will still receive a colored option as we still have a limited number of colored casings on stock, however all other orders will be changed to Meteor Grey.
Our current focus is on bringing the Ockel Sirius A's as quickly as possible to your doorsteps, as well as retail & e-tail channels all around the world. Cutting off two colors will simplify the production process which helps us to reach our focus goal quicker. At this moment we cannot give you an estimate about if and when the Moon Silver and Venus Gold options will be available again.
Meet-up with the Dutch celebs.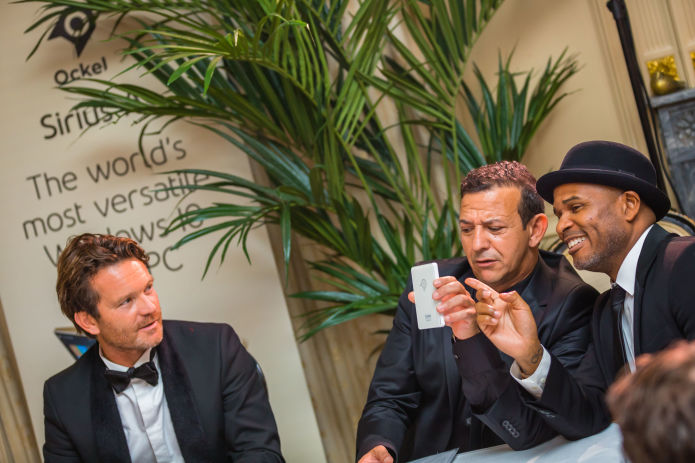 Last week Tim and I got the chance to meet-up with Dutch celebrities to tell them all about the Ockel story and obviously the new 'We're going public' project that's closing in on us. It was a blast and amazing to see how enthusiastic the celebs were about our PC solutions.
In case you haven't yet read about your chance to become part of Ockel Computers – yes, that's correct.. part of the company Ockel Computers then sign-up for more info here.
That's it for now. As always, if you have any questions regarding our products or this update, please feel free to contact us at [email protected] or leave us a comment here on Indiegogo. We answer all questions within 48 business hours (Monday-Friday)
See you next week,
The Ockel Team