New timeline
By Jesper — augustus 28th, 2017
In the past weeks, many of our backer asked us about the timeline update of the Ockel Sirius A. During that time, we were working on crucial steps of the development process that affect the project timeline and we are now ready to share all details.
The new timeline
The fantastic test results of the current Ockel Sirius A prototype led to one conclusion: We are ready to start ordering the IC components. (IC's are basically very small components used for the PCBA of the Ockel Sirius A).
We were unpleasantly surprised when we found out some of the IC suppliers communicated lead-times of 16 (!) weeks or longer. In the last two weeks, our team has put a considerable amount of time and effort in reducing the lead-times by switching from IC-component suppliers. Obviously, all without handing in on quality.
Today we have the chance to update you with the most accurate timeframe possible.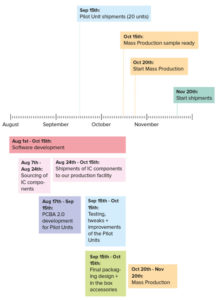 PCBA 2.0 & Pilot Units
As you may notice in our timeline, we currently have 'PCBA 2.0' in the works. This refined PCBA includes the latest IC components and improvements based on the most recent prototype model. We expect to finish the next round of prototypes, all powered by the second version of the PCBA, mid-September.
A total amount of 20 so-called 'Pilot Units' will be build. The pilot units will be used for certification, extended testing and hardware/software optimization purposes.
As we shared with you a few weeks ago, we visited several test-labs to test our Ockel Sirius A in. We found a partner in Philips Innovation Labs. Several Pilot Units of the Ockel Sirius A will be tested at the labs of Philips, we're happy to tell you all about those tests later.
The other pilot units will be handed out to our technical partners Microsoft and Intel.
Mass Production
From the 15th of September until the 15th of October we have a short period to test and tweak the Pilot Units until the Mass Production sample is ready on the 15th of October. We expect the mass production to start on the 20th of October and the shipping to begin only a month later at the 20th of November.
Software Development
On the software side the development is well underway, Liao is working hard on implementing different features and we have weekly conference calls with our technical partners to discuss the additional Windows 10 features and solutions. More details will follow soon!
Categorieën
Recente berichten