Red Ferret article + Computable Awards
By admin — June 13th, 2018
Hi all,
Time for an all new update. Last week we didn't update you due to the National holiday we celebrated here in the Netherlands. This week we're back with fresh news!
Red Ferret review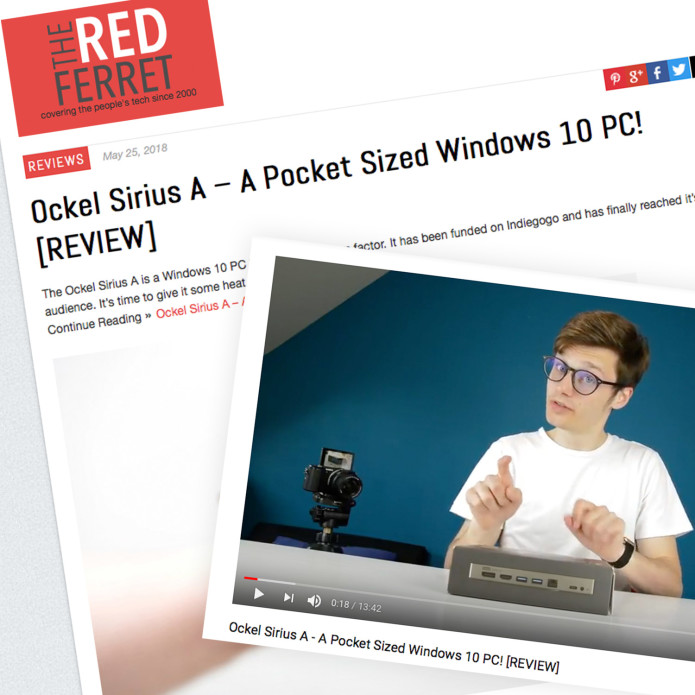 Simon Bossuyt from the Red Ferret got the chance to review the Ockel Sirius A Pro. He was very pleased with the device: ''The Ockel Sirius A is fast, sturdy and has a nice and colourful HD-screen, so it's worth the money. For doing computing on the go, this is a musthave!''
In case you want to learn more about his review, follow this link to find the Youtube videos!
Google+ Community
As some of you may already know, a fellow group of backers created an active Google+ Community. Although this community is not being moderated by us, we do actually read all posts. In case you want to meet and share your usecases, tips & tricks and/or thoughts on the Sirius A or Sirius A Pro, feel free to join the conversation on the Ockel Sirius A Google+ community.
Start-up of the year – Nominee

We have the chance to become 'Start-up of the year' as we're invited to be part of the Computable Awards 2018. The pitch contest amongst the top-20 start-ups in the Netherlands will take place this Friday.
Obviously, we hope to become start-up of the year and we require your help to make this happen. As soon as we have more information available about how you can help, you'll be the first to know!
Shipping update
For all backers who recently joined our campaign and opted-in for a Ockel Sirius A Pro (in any color) please be aware of the extended shipping timeframe. We are currently anticipating on three to four weeks from now before we can ship out your order. In case you have any questions about your order, feel free to reach out to us via: [email protected].
Please also make sure to fill-out the backer survey after you've pledged for your perk here on Indiegogo. You can find the Backer Survey here.
Powerbank shipping update
We anticipated on shipping out the power banks in an earlier stage. Due to several logistic reasons we were unable to. Luckily for all backers awaiting their Powerbar Pro 9000 we have good news today. We're wrapping up the final stages before we can start shipping, meaning the shipping of these goods will kick-off later this week.
That's it for now. As always, if you have any questions regarding our products or this update, please feel free to contact us at [email protected] or leave us a comment, here on Indiegogo. We answer all questions within 48 business hours (Monday-Friday)
See you next week,
The Ockel Team