Production update, Press Event & Traveling overseas
By Jesper — October 8th, 2018
Hi all,
Time for an all new update. This week we'll tell you more about the production status, the Ockel Investment press event and an upcoming trip overseas.
Production update
The national holiday is officially over. This means that all aspects of our production are slowly getting back up again. We are happy to tell you that the test phase of our pre-production models has been started and is expected to finished in the middle of next week. We aim to get our hands on a fully assembled pre-production model later next week. We'll take it back to our HQ in the Netherlands and will extensively test the model in-house (day-to-day activities) as well as in third party test facilities. As soon as we confirm this model, the Ockel Sirius A production will kick-off. We expect a lead-time for the new PCB models of 30-35 days. After which the units will be assembled and shipped to you. This means that we currently expect to be able to ship out all remaining Ockel backorders in November.
We'll also be able to ship a fairly small batch of Ockel Sirius A's later this month, we expect to have more details available about this small batch later next week.
Press event – Ockel Investments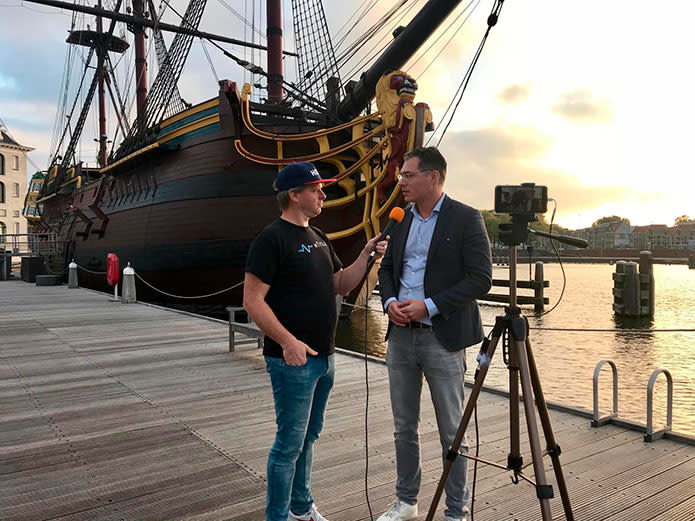 The word is out, our redefining investment opportunity is now available to the public!
As some of you might already know, Ockel Computers has become a public company. We are the first Dutch hardware company to do this in a new groundbreaking way. The funding counter is filling up quick. Claim your piece of Ockel starting at only €25,-!
We are actively promoting this opportunity and last week we hosted a successful press event in Amsterdam. With several speakers, including an ex-banker, a professor and obviously Tim himself we aimed to inspire and inform all present (local) press. An after movie is in the works and will be shared with you later on.
Tim was also interviewed by Bitcoin Magazine. You can find the full video here on Youtube!
Traveling overseas
Tim and I will be traveling overseas later this week. We will be present at an Intel event, as well as several events related to the Ockel Investments opportunity. We also have scheduled several meetings with our tech partners to talk about the Ockel Sirius A production developments. If you happen to be around in Hong Kong next week, feel free to reach out to us to meet & greet!
That's it for now. As always, if you have any questions regarding our products or this update, please feel free to contact us at [email protected] or leave us a comment, here on Indiegogo. We answer all questions within 48 business hours (Monday-Friday)
See you next week,
The Ockel Team