Sirius B
Black Cherry
Small in size, big in performance
Ockel Sirius B Black Cherry
Windows 10 Home 64-bit
Intel Atom x5-Z8350
4GB RAM
32GB/64GB Flash
Starting at $299
How to use
Mediaplayer
The Ockel Sirius B Black Cherry turns any television into a smart media center. Enjoy the latest Netflix series, stream with Kodi or listen to your favorite artists with Groove music. 64GB of Flash storage and a Micro SD card slot ensure enough space to store all your media files.
Office
Use the two USB ports, WiFi AC and Bluetooth technology to connect a keyboard, mouse or other peripherals. This pocket PC is an excellent solution for freelancers, keynote speakers and business owners looking for powerful and portable technology.
Home
Get rid of the bulky PC tower in your study or dorm room, this mini PC is ready for all your daily tasks. A custom designed passive heat sink makes this Ockel device 100% silent, so you can browse, e-mail, stream and edit your holiday pictures without any noisy fans.
Gaming
Asphalt, Minecraft, Call of Duty, have your favorite game at your fingertips wherever you are. With 4GB of RAM and a powerful Intel Atom processor, the Ockel Sirius B Black Cherry supports many of the most popular games available in the Windows 10 game store.
Light as an apple
We know that no one likes to carry around heavy stuff. That's why the Ockel Sirius B Black Cherry 153 grams (or 5.40 ounces). This is less than the iPhone 7 Plus!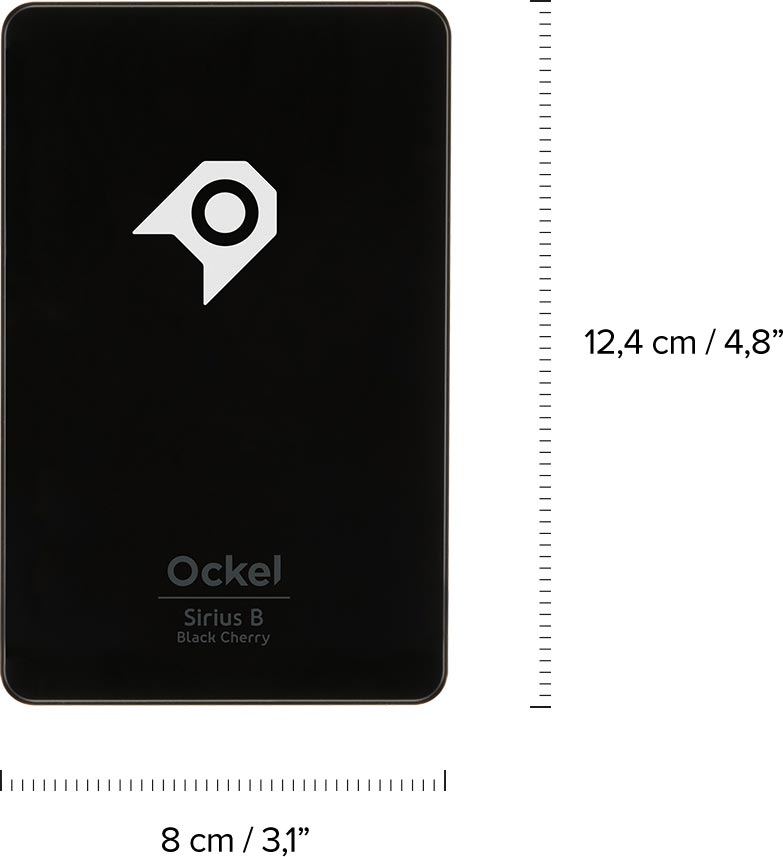 Seriously small
The Ockel Sirius B Black Cherry easily fits into your pocket or bag. With a size close to smartphones such as the iPhone 7 and Samsung Galaxy S8 you hardly realize you're carrying a complete computer with you. Use Sirius B Black Cherry wherever and whenever you want. Connect an HDMI screen, the power adapter and optionally a mouse and/or keyboard and you are ready to go!
100% Silent
We designed the Ockel Sirius B Black Cherry in such a way that ventilation fans are no longer required. This unique feature combined with flash storage means you can enjoy working in silence and benefit from ultra-low power consumption. As Ockel brand is built around everything that can be found in space we decided to create an eye-catching heat sink with the pattern of the Canis Major star constellation. This is the star constellation where the Sirius B star can be found, the most well-known white dwarf star in our universe.
What's in the box
Partnership
The awesome Microsoft team offers us their support and knowledge when it comes to software development, licensing and other question related to Windows 10.
We work closely with the Intel engineers to create a fast and reliable device. The knowledge of their worldwide teams enables us to develop new products.
Connectivity
Connect your peripheralswithin the blink of an eye. The Ockel Sirius B Black Cherry is equipped with many ports to connect almost anydevice you want.
Technical Specifications
Operating system
Windows 10 Home (x86-64) / No OS
Processor
Intel Atom x5-Z8350
Graphic type
Intel HD Graphics 400
4K Support
3840 x 2160p @ 30Hz
WiFi
802.11 a/b/g/n/ac, dual band
Internal storage
32GB / 64GB eMMC flash
Expansion options
Micro SDXC slot
Dimensions
124 x 80 x 13mm / 4.8 x 3.1 x 0.5"
What users say
Sean
Canada
The packaging was very elegant and well designed and the PC itself is great!
Hugo Gomez
Spain
This product is amazing, fast, cool and saved me a lot of space on my desk.
Michael Holihan
United States
Not only have you squeezed a computer into the small box, now you place a star map on the back heat sink! Brilliant & a wonderful design, see you in outer space!
Tom Navarro
France
Hello Ockel, nearly one week that I use your wonderful product and I only have one thing to say: It Rocks!
James
United Kingdom
I received it today, and seeing its size on the web is one thing. Holding in my hand was a whole other thing. I was blown away by how small this really is. The craftmanship on it is just awesome! Excellently designed case.
Andy Slater
New Zealand
I have to say, your pocket PC really takes the cake! Congratulations on a superb (both looking and size-wise) product.
Join our mailinglist
Subscribe to our newsletter and stay updated on the latest Ockel developments.